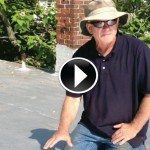 Why do you paint Aluminum asphalt coating on a roof? So many times I see a commercial or residential roof, that is only 12 – 15 years old, and needs replacement. The reason why a rubber or the old Build-Up (hot-tar) roof deteriorate faster than normal, is the Ultra Violets of the sun. Therefor it is best to protect any roof surface against ultra-violets.
Modified Bitumen Membranes comes in plain or granulated surfaces. The plain rubber must be coated after installation whereas the granules is the protection against UV's.
This video shows how the silver coating looks like on a plain surface Modified Bitumen membrane.