Flat Roof Repair- Modified Bitumen Rubber and EPDM Rubber roofs
What type of material is on the roof?
There are mainly four types of roofing materials found.
1. Modified Bitumen Rubber membranes –  This material is recognizable in several ways.
The width of the material is three feet wide
The seams are fused together, therefore, you will see some material that flowed out of the seams
Some of the membranes will have granulated surface – looks like shingle surface
Not all roofing companies are experienced in all types of materials. If you look on their websites you will see what they prefer to install. For the most, it is EPDM rubber.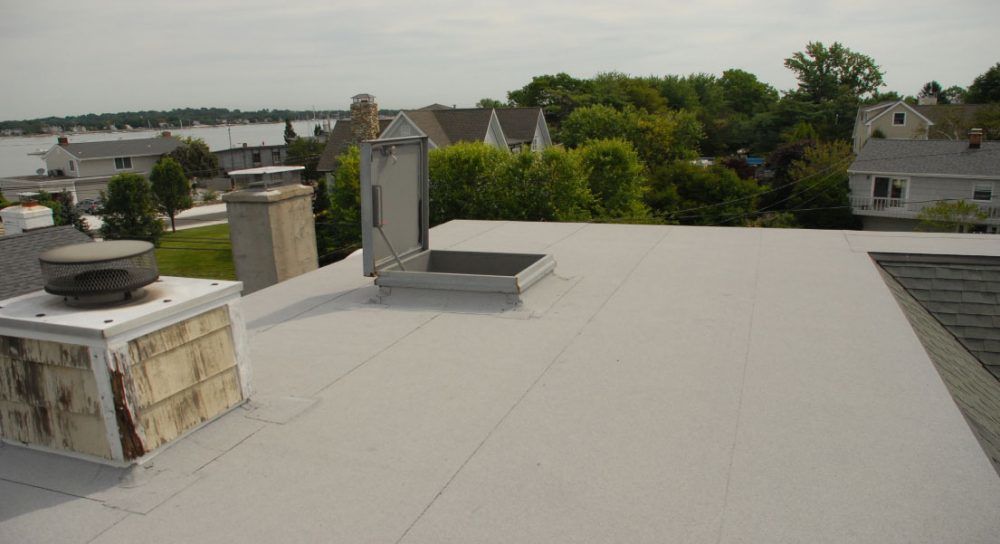 Flat Roof Doctor has experience in repairing all kinds of roofs.
We recommend Modified Bitumen Membranes for new roofs but we repair all roofs
2. EPDM Rubber can be recognized as follows:
       The Very smooth rubber that is made of the same material as an inner tube of a tire.
       Fewer seams than that of a Modified Bitumen Roof
       Mostly black and no granules on it.
       Feels and is smooth to the touch.
EPDM Rubber is the most commonly roofing material under most contractors. Ninety percent will recommend EPDM. In our experience over 25 years, EPDM does not last as long and starts to pull loose at seams within 3 – 5 years. The cost for installing an EPDM roof is higher than that of a Modified Bitumen Membrane. Modified Roofs will outlast any other roof by 15 years if correctly installed.
3. TPO Vinyl Membrane
together      Almost always white.
       Feels like plastic
       Very clean and very few seams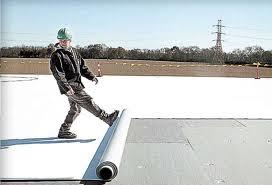 Hot Tar Roof
       This is the old fashioned style roofs.
       It will have a lot of cracks in the surface tar
       It could be painted with aluminum asphalt paint – called silver painting.
       Many times it is covered with stone.
Once you have determined what type of material is on your roof, you can make a better choice on who to call for the repair.
It takes a professional to do a proper repair. A handyman or carpenter or any person is not experienced enough to understand all the different materials and may cause more problems trying to repair the roof. EPDM and TPO are very sensitive materials and should be treated with utmost care. The worst is when someone will use tar or silicon caulk to make repairs. That is a sign of inexperience. There are techniques and specific materials for every roofing materials to make proper repairs.
How old is the roof?
It's very important to get a close idea how old the roof is. No roofing material will last indefinite. A roof can be trouble free for a long time, but there comes a point when the material is failing. No one can give an accurate answer as to how long any roof will last. Elements like sun exposure, foot traffic, and other environmental elements play a big role in the longevity of a roof.
Here are few pointers to determine if the roof is at its end.
Many repair patches.
Seams are coming apart.
Edges – most commonly for flat roofs to lift from the edges. That's a good sign that the roof is on the old side.
Around vents and drain pipes. Many times the rubber will pull away from an obstacle like a pipe or drain.
Make a physical inspection and look for obvious signs for where the rubber or membrane is not good anymore.
How well was the roof done?
The weakest part of the roof is the technique that was used at installation. Inexperience roofers and workmen have to lead to many roof failures. This is the most determining factor of any roofing job. A Modified Bitumen Rubber roof could last up to 30 years if its is properly installed.
A rule of thumb of how long some of these membranes and other roofs can last: This all depends on the installation technique.
Modified Bitumen Membrane – 20 – 30 years
EPDM Rubber Roof –  12 – 15 years
TPO Vinyl roofs – 15 years
Traditional Hot Tar roofs –  10 – 35 years ( depends on a number of layers.
If the roof is fairly new, within 8 years or so, and it is I relative good condition, then it is worth getting it repaired. Most roofs that have been well installed can be repaired. The age doesn't really matter if the work was well done, then any repairs will be good as well.
If the roof has many patches, tar, and caulking everywhere, then its best to have a professional look at to determine if it is repairable or not.
It is almost at any homeowner's best interest to get a professional to do repairs. The unfortunate thing is, that most roofers are not well experienced and neither honest enough to give an unbiased opinion on whether the roof is repairable or not. This may lead a homeowner in the wrong direction.
Vent pipes are one of the objects to look at when making flat roof repair. See this video on what to look for to find a leak on a roof. The rubber boot that forms the flashing around the vent deteriorates and needs to be replaced.
There are many ways roofers will do the flashing around a vent pipe. Most commonly they would use a pre-made rubber boot that's meant for a shingle roof on a flat roof as in the video image above.
When attempting to make a flat roof repair, the first thing to look at is if the flashing around the vent is in good condition. Telltales are when the tar around the vent is cracked. Also, the rubber that forms a gasket around the pipe could be cracked.
When you make a roof repair around a vent it is also very important to know what material the roof is made of. Very often people will use TAR to seal around the vent, but then the roof is EPDM rubber. Tar can ruin an EPDM roof because it's not compatible. Only use Tar on a Modified Bitumen rubber roof and an old style Hot Tar and gravel roof.
When repairing an EPDM rubber roof, you can use caulking specially designed for that. The lap sealant from Firestone is very good for such repairs. Look for this caulk FSP-207 TIS for Firestone Lap Sealant HS
[ytp_video source="3BJgT176q9Y"]
You can use the same caulking on all the other rubber roofs including TPO materials.

In some cases, the vent pipe has a rubber boot around it. Make sure the rubber is tight around the pipe. Always check for the vent pipe flashing. Most of the time it is just tar or caulking that prevents it from causing a leak.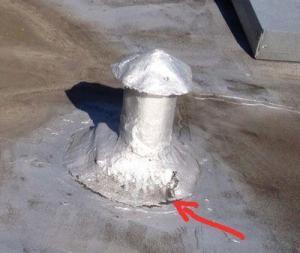 The pitch pocket that surrounds this vent in the image should be filled with tar to prevent water to accumulate around the vent. There are two types of flashing around the vents in this image. One is a pitch pocket type and the other is just tar.
This is the tar to use when making roof repairs on old hot tar or Modified bitumen rubber roofs. The only Tar to make roof repairs on hot tar and Modified Bitumen rubber roofs.