Flat Roof Installation over Garage. Commercial or Residential
This is garage roof. Whether it be a residential or commercial building, the materials we use are the same. The big problem with residential roofs is the posts and siding and vent flashing.
In the roof video, you will see another door sill that was a problem. When re-roofing the common problem with residential roofs are the siding and the railing posts. Most of the time we have to make roof repairs around the posts and other objects before installing a new rubber roof.
In most cases if possible, it is better to remove the railing. That gives better access to the edge of the roof where the metal edge has to be installed.
Whether we do a small roof over a garage or a big commercial roof, all the materials and the techniques are the same.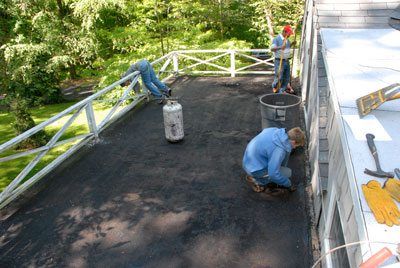 The siding is also a factor. In most cases, we try to use the existing flashing that's under the old existing roofing material. We remove the old material carefully to dig the flashing out. then we prepare the flashing for the new rubber roof. The reason we like to do it that way is because it will take longer to remove the siding and replace it with new again.
The rubber roof got installed after all the preparation was done on the roof.
Watch the video on how to treat post flashing. It is important to have counter flashing over a post. So many times we find that the roof is leaking due to improper flashing on the post.