Commercial Roofing vs. Residential Roofing Costs
Installing a residential flat roof is more costly than a commercial flat roof per square foot due to the following reasons:
Roof Size – limited space causes movement restrictions of people and materials.
Objects – such as vents, skylights, and chimneys require more detailing for the proper transition to the membrane
Siding –  must be removed and replaced in areas where the roof meets the walls
Railing – railings must be removed and reinstalled
Posts – must be reflashed to the new membrane
Shingle roofing – must be removed and replaced for a proper transition
Door sills – require a very detailed transition to the new membrane
Gutters – require removal and reinstallation
Surrounding Landscape – restricts access to the roof
The video below shows how an existing roof is stripped, cleaned, and prepared for the placement of a new membrane. Normally, the most labor intensive work is cleaning and repairing the flashing.
The video below shows where we have already replaced plywood and made the necessary preparation to install a new rubber membrane.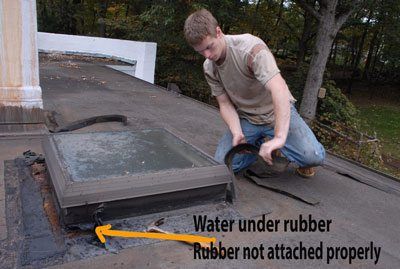 Ninety percent of the time, a leak can be traced to incorrectly installed flashing. Installing flashing requires special techniques for different types of roofing systems.
Regardless of what type of material is being installed on a commercial or residential roof, it is more important to choose the right flat roofing contractor.